Puppies: K Litter Dec 2020: Huegill / Siobhan puppies puppies.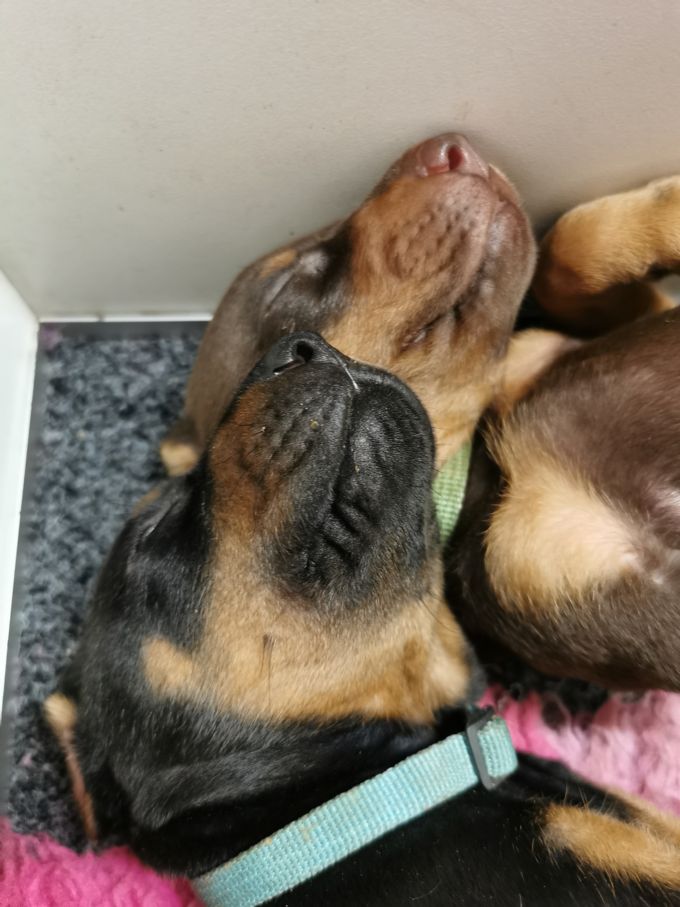 ​We welcome all enquiries about our Dobermanns and Miniature Poodles and will endeavour to assist wherever we can. We also invite those interested in a Wattavue puppy to come and "meet n greet" our family as our "Canine Kids" love visitors. All our litters are carefully planned with regards to pedigrees, temperament and genetic health test results.
We are not a large kennel but we breed for quality. We believe that where possible all precautions should be taken to ensure that puppies have a long healthy life with their beloved owners. In our opinion, good breeding is a balance of breed type/standard, genetic health and of course good temperament. We carefully choose our breeding stock with these characteristics in mind as we are of the opionion that there is no place for a dog which has "looks to die for" if it cannot be an active member of the family / society.
No amount of scientific screening of breeding stock for hereditary defects can ever guarantee that puppies will be trouble free. However, breeding from sound & health tested parents certainly increases the possibility that puppies will be less likely to develop health issues.
It is illegal to dock tails in Australia, so our Dobermanns and Poodles come with natural tails. We will not delegate the responsibility of whelping our litter onto someone else in another country just so our puppies will have docked tails. Our dogs are our family and it will never be an option for us to send our girls elsewhere to whelp just for cosmetic purposes.
Our litters are limited, so should you be interested in a "Wattavue" puppy, please contact us either by text, phone or email and we will discuss with you when we anticipate our next litter.
Wattavue puppies are our children and we trust that if you choose to introduce a Wattavue puppy into your family that they will become a valued member of your family.
Here are some very important questions that you need to ask yourself before you commit to a puppy:
Q1. Is your yard suitable for the breed of your choice?
Q2. Do you have sufficient time to train/raise a Puppy?
Q3. Does the breed of your choice suit your families lifestyle and budget?
Q4. Will your puppy be allowed inside or will it strictly be an outside pet?
Q5. Are you prepared to groom or pay for grooming of a Poodle if that is your choice of breed?
Q6. What is your expectation for your puppy: Showing, breeding or a family companion?
Q7. Have you considered whether a male or female is best for your family?
Q8. Possibly the most important Question of all: Have you researched the breed of your choice? There are alot of dogs handed over for adoption for the wrong reasons. Just because you like the look, colour, size or presence of a breed, this does not mean they will be a "good fit" for you or your family. Each individual Breed has specific breed characteristics and not all breeds are suitable for everyone. Be confident that the breed of your choice is a "good fit" and you are prepared to put in alot of training, effort, time, love and most of all COMMITMENT.
Planned Future Litters:
Dobermanns: Our next litter is planned for late 2023. We currently have a waiting list for this litter. However, if you are happy to go on our waiting list for future litters, you are welcome to contact us but please understand that you may be waiting up to 12 months.
Poodles: We are expecting puppies in October 2023. If you are interested, please contact us. These puppies will be silver.
Wattavue puppies are: wormed, vaccinated, Vet checked, micro chipped, registered with Dogs Qld on limited registration (not for breeding or showing),dew claws removed, are accompanied with a Black Hawk Puppy Pack, plus treats, toys, information folder and other useful items.
Contact Details
Rhonda Harnell
Peak Crossing, QLD, Australia
Phone : (07)54672035 or 0423 973 820
Email :
[email protected]